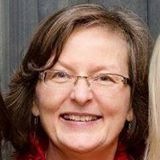 Just who is Maryalice?

Maryalice Kirchdoerffer, B.Sc., L.M.T. is a highly motivated & dedicated Intuitive Healer, Holistic Health Practitioner & Teacher with broad experience in a collection of energy based treatment modalities. She's been professionally practicing in the Holistic Health field since 1990. She is a graduate of The University of the State of New York, the Institute of Body Therapeutics (Lahaina, HI), Bloomfield College (NJ), The Wellness Center for Research and Education (L.A., CA), the Natural Health Institute (Toronto, CN) & many other training certification programs. She is currently attending Holos University Graduate Seminary in a combined masters/doctoral program in Spirituality and Energy Medicine and the International Institute of BauBiologie and Ecology to be certified as an environmental consultant. She is a Hawaii State Licensed Massage Therapist, a Certified Reiki Master and Life Alignment practitioner. Since 1995 she has had a private practice in Nashville, TN and works in person with locals and long distance over the phone with clients all over the world. She teaches workshops throughout the country & is a certified teacher of: Usui System of Reiki 1, 2, & 3, Body Alignment Technique (Module 1&2), Vortex Alignment Technologies, and Body Spin & Belavi Facelift Massage. She owned & operated the Abundant Health Center in Lahaina, HI and Alpha*Omega Enterprises in Nashville, TN & thus has years of experience in all aspects of running a very successful private practice.

Maryalice is a loving and joyful personality and serves you with pleasure, devotion and gratitude.

Her mission: To serve, to teach, to transform, to empower and to love.

Stay well! Have a peaceful and prosperous Life!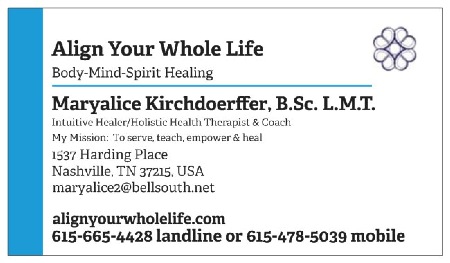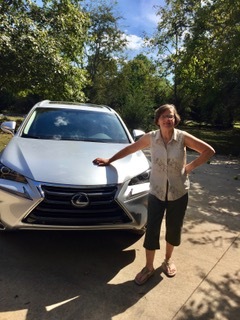 Thank you for your interest!